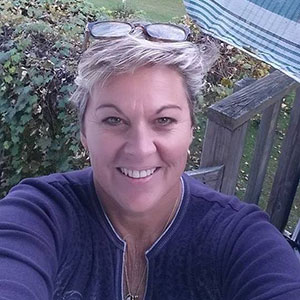 Lucretia M. Dawson, Southern Zone Expat
Property Management and Concierge Services

Tel. Costa Rica Cell +506 6296 5354; U.S. Cell (240) 388-0744

E-Mail: ludawson21@gmail.com
Website: ludawson.com
Lucretia moved to Costa Rica in January of 2016 to begin a new life of adventure.
Not yet able to retire, she brought her years of working experience with her and is incorporating those into her Costa Rica life by working through the internet... Read more
---
Killer Sunsets!

I had the pleasure of staying at San Buenas for nearly 6 months and I was introduced to Lucretia (Lu) Dawson. Let me first explain that Lu is what I refer to as my "go-to" person. She steered me in the right direction for everything I needed. And, introduced me to as many people as she could. Because, when you stay at San Buenas you are not just another vacationer, you become part of a very friendly gathering of people that I like to refer to as my vacation family. I was new to Costa Rica and by myself. But, not for long because as I just mentioned I was introduced to everyone. You can take Aqua Fit classes twice a week, join a weekly game night, and take part in a beach get-together. Lu made sure I was always included in any upcoming dinners or events. Just ask and she will know where and who to go to. The condos are very clean, comfortable, and beautiful with modern decor, ocean view, and killer sunsets. You are not very far from beaches and local shopping but far enough for that serenity. This will forever be my yearly home away from home. Thank you Lu!!!!

Sue J.
Nice and Relaxing

This House is must! We stayed here for 3 weeks and enjoyed every minute of it. Lu and Donald were great in getting us anything and everything we asked for. The house is fully equipped, nicely furnished and very comfortable. The pool is nice on those very hot days. The view is stunning and the house is very private. We loved that we had a gate at the entrance of the driveway and always felt safe. We were close to all of the conveniences in Ojochal. Great restaurants, small sodas, and the walks were amazing and filled with wild life. People here are so nice and genuine. We would so do this again, highly recommended!

Anita J.
Great Location

Probably one of the BEST vacations our group has been on in our last 6 years travelling together. It was a very long travel day for everyone involved. Our group was happy and excited about the house when we checked in. The flowers, fruit, wine, and welcome we received from Lu and Donald made the long day seem to melt away. The house is amazing! Lots of room, great outdoor sitting, wonderful breezes and the pool and the views are stunning. The book at the house with all of the information about everything you could imagine was our nightly read to make plans for the next day. Lu made several of our excursion reservations and even met us one of the days because we got lost. We visited many of the beaches and ate fresh seafood and vegetables daily. Don't miss the Corcavado National Park excursion, you will LOVE IT. I'll do it again without a doubt.

Jacob S.
Pura Vida

We are so grateful to have had the opportunity to rent La Casa Azul. It's a little piece of paradise lost in the jungle. Every morning you drink coffee surrounded by nature where you can watch birds, butterflies and even monkeys. There is also a lot of things to do around and the location is not too far from Corcovado National Park. Quick note, don't forget to rent a 4WD. Thank you Donald and Lucretia!

Veroniqe B
---
Managed properties:
San Buenas
Casa Vida de Montaña - A5 - 1B/1B - 2nd floor walk-out
Casa Tres Amigos - B6 - 1B/1B Condo - 3rd floor
Villa Adams - Lot 2A - 2B/2B House with private pool
Casa Jardin - A3 - 1B/1B Condo - 1st floor
Casa T&L - A7 - 1B/1B Condo - 3rd floor
Casa Ghosty - B1 - 2B/2B Condo - 1st floor
Chontales
Villa Buen Trueno - 3B/3B House with private pool
Casa Jean - 3B/2B House with private pool
Casa Paraiso Perfecto - 3B/2.5B House with private pool
Ojochal
La Casa Azul - 1B/1B Cabin
Villa Cassandra - Villa 12 - 3B/2.5B Villa with private pool