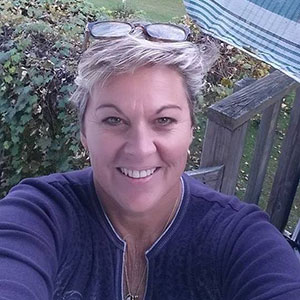 Lucretia M. Dawson, Southern Zone Expat

Tel. Costa Rica Cell +506 6296 5354; U.S. Cell (240) 388-0744

E-Mail: ludawson21@gmail.com
Website: ludawson.com
Lucretia moved to Costa Rica in June of 2016 to begin a new life of adventure.
Not yet able to retire, she brought her years of working experience with her and is incorporating those into her Costa Rica life by working through the internet... Read more
---
Great Location

Probably one of the BEST vacations our group has been on in our last 6 years travelling together. It was a very long travel day for everyone involved. Our group was happy and excited about the house when we checked in. The flowers, fruit, wine, and welcome we received from Lu and Donald made the long day seem to melt away. The house is amazing! Lots of room, great outdoor sitting, wonderful breezes and the pool and the views are stunning. The book at the house with all of the information about everything you could imagine was our nightly read to make plans for the next day. Lu made several of our excursion reservations and even met us one of the days because we got lost. We visited many of the beaches and ate fresh seafood and vegetables daily. Don't miss the Corcavado National Park excursion, you will LOVE IT. I'll do it again without a doubt.

Jacob S.
Nice and relaxing

We stayed at Villa Victoria from the 16th to the 30th of January 2019. The road (about 3 km) to get there is rather unpleasant. By cons, on arrival a jewelry awaits you! The house, in addition to being beautiful, is very well equipped and very comfortable. Located on the heights, it offers a real intimacy and a beautiful view of the environment: mountains, ocean, vegetation. The pool is most enjoyable. Lucretia has always responded very quickly to our requests. We would be happy to return anytime.

Sylvie & Jules, Quebec, Canada
Perfect Start!

My husband and I stayed at this beautiful condo twice during our move to the Southern Zone of Costa Rica. Both times we found the place in perfect condition. Clean and inviting. Always a special touch from Lu ( the property manager). Checking in and out was easy and efficient. The Condo is located on the only golf course in this area. We are not golfers, yet enjoyed walking the grounds. Lots of wildlife, birds and fruit trees. The best part of staying here was the neighbors. The community pool is wonderful and often the gathering spot on warm afternoons. We were invited to join people for dinners ( both in the community and at lots of different restaurants in the area). This location is close to lots of beaches, water activities, waterfalls and best of all the great restaurants. This Condo was a perfect place to start our life in Costa Rica. Thanks Lu for making our transition so easy!

Nicole D.
---
Managed properties:
San Buenas
Casa Vida de Montaña - 1B/1B - 2nd floor walk-out
Casa Tres Amigos - 1B/1B Condo - 3rd floor
Villa Adams - 2B/2B House with private pool
Casa Jardin - 1B/1B Condo - 1st floor
Casa T&L - 1B/1B Condo - 3rd floor
Casa Ghosty - 2B/2B Condo - 1st floor
Chontales
Casa Victoria - 2B/2B House with private pool
Villa Buen Trueno - 3B/3B House with private pool
Ojochal
Palm Breeze - 3B/3.5B House with private pool
La Casa Azul - 1B/1B Cabin
Villa Ojochal - 2B/2B Villa with private pool