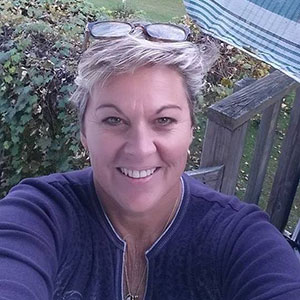 Lucretia M. Dawson, Southern Zone Expat
BiCoastal Concierge Services

Tel. Costa Rica Cell +506 6296 5354; U.S. Cell (240) 388-0744

E-Mail: ludawson21@gmail.com
Website: ludawson.com
Lucretia moved to Costa Rica in June of 2016 to begin a new life of adventure.
Not yet able to retire, she brought her years of working experience with her and is incorporating those into her Costa Rica life by working through the internet... Read more
---
Very nice

Our vacation started here at San Buenas. It was most relaxing at the large Pool where on any given day at 4ish everyone there gathered for happy hour and discussed their adventures of the day. We were invited to cook outs, dinners out and even played cards a few nights with neighbors. The condo was spacious, fully stocked, clean, comfy, and the views outstanding. The condo came with golf included for free. We played golf almost daily. The course is only a nine hole course, but very challenging. Kenny the greenskeeper made a special deal with us on the cart fees because we stayed a month. The vibe here is totally relaxed and fun. The book provided to us upon check in gave us so much information about the area, where to shop, what adventures were available, phone numbers of places to eat, etc... Lu was great in setting up massages for us, making reservations to eat, and hooking us up with adventures. If you are looking for a place to relax and enjoy, this is it!

Chris D.
Nice and relaxing

We stayed at Villa Victoria from the 16th to the 30th of January 2019. The road (about 3 km) to get there is rather unpleasant. By cons, on arrival a jewelry awaits you! The house, in addition to being beautiful, is very well equipped and very comfortable. Located on the heights, it offers a real intimacy and a beautiful view of the environment: mountains, ocean, vegetation. The pool is most enjoyable. Lucretia has always responded very quickly to our requests. We would be happy to return anytime.

Sylvie & Jules, Quebec, Canada
Oh the beautiful nature sounds

WOW how the sounds of nature in February come alive every morning and evening at La Casa Azul. I loved relaxing on the front balcony surrounded by the jungle looking out at the ocean in the distance. A small flock of toucans flew into an adjacent tree each evening. Many other birds and butterflies made their appearance. The Pacific beaches of Playa Ventanas and Playa Pinuela are a short drive down the mountain on a well graveled road. Took a boat from nearby Uvita to Corcovado National Park to take a guided hike in the rain forest. This Costa Rican cabin supported a relaxing time and also provided all the basic essentials required to cook meals and sleep peacefully. Thanks Lucretia.

Gerard H.
---
Managed properties:
San Buenas
Casa Lalonde - 2B/2B condo - 2nd floor
Casa Tres Amigos - 1B/1B Condo - 3rd floor
Villa Adams - 2B/2B House with private pool
Casa Jardin - 1B/1B Condo - 1st floor
Casa T&L - 1B/1B Condo - 3rd floor
Casa Ghosty - 2B/2B Condo - 1st floor
Casa De Las Mariposas - 2B/1B House with private pool
Chontales
Casa Pacifica - 3B/3B House with private pool
Casa Victoria - 2B/2B House with private pool
Villa Buen Trueno - 3B/3B House with private pool
Ojochal
Palm Breeze - 3B/3.5B House with private pool
La Casa Azul - 1B/1B Cabin