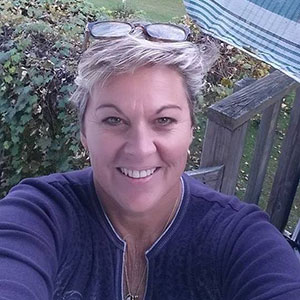 Lucretia M. Dawson, Southern Zone Expat
BiCoastal Concierge Services

Tel. Costa Rica Cell +506 6296 5354; U.S. Cell (240) 388-0744

E-Mail: ludawson21@gmail.com
Website: ludawson.com
Lucretia moved to Costa Rica in June of 2016 to begin a new life of adventure.
Not yet able to retire, she brought her years of working experience with her and is incorporating those into her Costa Rica life by working through the internet... Read more
---
Nice and relaxing

We stayed at Villa Victoria from the 16th to the 30th of January 2019. The road (about 3 km) to get there is rather unpleasant. By cons, on arrival a jewelry awaits you! The house, in addition to being beautiful, is very well equipped and very comfortable. Located on the heights, it offers a real intimacy and a beautiful view of the environment: mountains, ocean, vegetation. The pool is most enjoyable. Lucretia has always responded very quickly to our requests. We would be happy to return anytime.

Sylvie & Jules, Quebec, Canada
Safe, beautiful beach.

We had an amazing eight days at this property, and would definitely come back. The unit itself is lacking nothing, clean and very comfortable, beds and all. It was a great location to make day trips. I always felt safe, and the luxury was bonus. We met some great people in the other units and the staff were just lovely and attended to our every need. The coffee, milk, beer and flowers were a great touch! Lucretia communicated effectively and checked in with us while we were there. The food in the area restaurants were great, and the kitchen had everything we needed. We were able to pull ourselves away from the private blue flag beach and do a scuba tour on Cano Island and a jungle tour in Osa/Sierpe. Both amazing. We would definitely return and stay longer.

Angela W.
Outstanding!

We had an outstanding vacation! The road in is a little scary your first trip up and a 4x4 IS A MUST. The house is very private, well stocked, clean, and very comfortable. The pool and views are just the added bonus needed for vacation. We walked through the neighborhood almost daily and we met such nice people. Lu and Donald were available to us throughout our stay and made some great recommendations as to where to eat, where to grocery shop and even scheduled several of our adventures for us. We will be back for sure.

Peter K.
---
Managed properties:
San Buenas
Casa Lalonde - 2B/2B condo - 2nd floor
Casa Tres Amigos - 1B/1B Condo - 3rd floor
Villa Adams - 2B/2B House with private pool
Casa Jardin - 1B/1B Condo - 1st floor
Casa T&L - 1B/1B Condo - 3rd floor
Casa Ghosty - 2B/2B Condo - 1st floor
Casa De Las Mariposas - 2B/1B House with private pool
Chontales
Casa Pacifica - 3B/3B House with private pool
Casa Victoria - 2B/2B House with private pool
Villa Buen Trueno - 3B/3B House with private pool
Ojochal
Palm Breeze - 3B/3.5B House with private pool
La Casa Azul - 1B/1B Cabin
Uvita
Villa Paraiso Tropical - Luxury Villa Estates - 3B/3.5B Villa
Tres Rios
Tikirica - Sleeps 8 - private pool